"Our mission is to enhance the intellectual, civic, and cultural life of Oregon's South Coast by facilitating awareness of local history."
The Coos County Historical Society is a federal non-profit.
Tax ID 93-0446513
Museum Hours
10:00 a.m. to 4:00 p.m
Tuesday thru Saturday
Admission:
Adults $4, Students & Seniors $2
Children Under 12: no charge
... ... ... ... ... ... ... ... ...
See the exciting plans for the new
COOS HISTORICAL & MARITIME CENTER!
(click on the image below to learn more)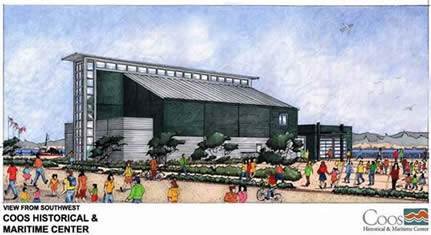 A contractor is about to be selected and upon CCHS's receipt of funds from an expected grant, with additional fund raising continuing for exhibits, interior amenities, and site enhancements, construction should begin in the summer of 2013.
We encourage you to add your name to the permanent donor list (now more than 420 strong!) to be displayed in the Center's main hall. Consider "naming" a bronze survey marker at the entrance, or sponsoring a room, exhibit section, or other popular feature. Just click the photo of the building above to learn more. Now, more than ever, you'll help make the Center happen!!
... ... ... NEWS and EVENTS ... ... ...
Author talks and Book Signings!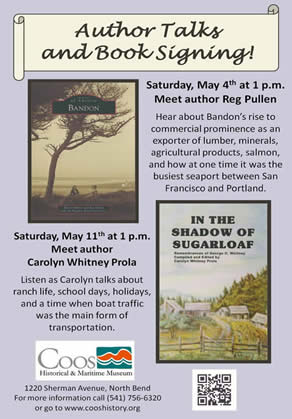 Saturday, May 4th at 1p.m.
Come meet the authors of the newest book in Arcadia Publishing's popular Images of America series - Bandon by Robert Miller and Reg Pullen with the Bandon Historical Society.
Hear about Bandon's rise to commercial prominence as an exporter of lumber, minerals, agricultural products, salmon, and how at one time it was the busiest seaport between San Francisco and Portland. Although fires in 1914 and 1936 devastated the landscape, Bandon quickly rebuilt and has never lost its reputation as a restorative scenic destination and vital place to live and work.
Saturday May 11th at 1p.m.
Carolyn Whitney Prola has compiled excerpts from her father's writings and oral interviews into a new book called In the Shadow of Sugarloaf. She will share first-hand accounts collected from her father, George H. Whitney, of what it was like to grow up in rural areas of Coos County from 1910 to about 1930. Listen as Carolyn talks about ranch life, school days, holidays, and a time when boat traffic was the main form of transportation.
Meet "President Roosevelt" May 15th only!
Joe Wiegand as Teddy Roosevelt
Joe Wiegand, regarded by many as the nation's premier Theodore Roosevelt impersonator, will perform at the Hales Performing Arts Center on the Southwestern Oregon Community College campus starting at 7:30 on May 15th! This highly entertaining and inspirational show - - Mr. Wiegand's only performance on the south coast - - benefits CCHS. We are indebted to the Oregon Historical Society and Wells Fargo for this opportunity.
Tickets are $10 for adults at the door, or $8 in advance or for members of the historical society, and $3 for children 12 and under. Advance tickets available by phone; call 541)756-6320 between 10am and 4pm, Tuesday through Saturday.

Mr. Wiegand has also graciously agreed to provide a free afternoon show for more than the 1000 Coos County 7th and 8th graders, coordinated by the Coos County Historical Society.
Check out this video for a sneak peek of Mr. Wiegand's performance!
... ... ... ... ... ... ... ... ...
CCHS Publishes New Book: O Pilot!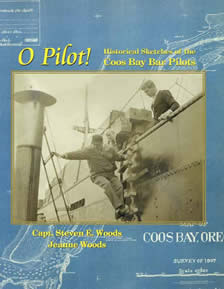 Capt. Steven Woods and his wife Jeanne Woods have authored a new book:
O Pilot! Historical Sketches of the Coos Bay Bar Pilots. Their book is a critically important history of the men who did the hazardous job of guiding vessels safely across the Coos Bay bar.
The Coos County Historical Society is the publisher of record. We would like to thank the Woods' for graciously donating all proceeds from the sale of the book to the Coos Historical and Maritime Museum. The book is available for purchase ($21.95) now at the gift store at the Coos Historical & Maritime Museum in North Bend. If you can't drop in, order your copy by calling the musuem at (541) 756-6320.
Remember, CCHS members get 10% off all gift store purchases. To become a member, click the "Join Us" link at the top of this page.
... ... ... ... ... ... ... ... ...
Two New Maritime Exhibits at Museum!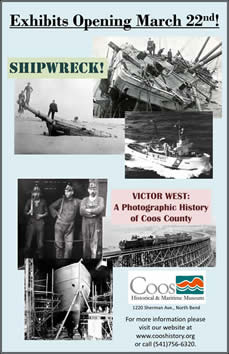 Come visit two new exhibits at the Coos Historical and Maritime Museum in North Bend! The entire maritime exhibit room has been redesigned to exhibit South Coast fishing, shipbuilding, and maritime activity. Artifacts and photographs highlight shipwrecks in particular.
The second new exhibit displays the artistic and historically important photograph collection of Victor West, maritime historian. The centerpiece of this exhibit is a recent donation by Jerry Alvey of a Millicoma Family Boat. This 16 foot-long wooden vessel is a classic of the days of the "Mosquito Fleet" photographed by West. It is perhaps the oldest locally hand-crafted boat remaining in Coos County - over 100 years old!
The new CCHS exhibits have been coordinated with the opening of a maritime art exhibit at the Coos Art Museum in downtown Coos Bay. Enjoy the maritime views of both museums in the Bay Area!
CLICK HERE to check out this news clip about this great exhibit!
... ... ... ... ... ... ... ... ...
Blues and Brews at the Mill Casino
The CCHS will be helping out this spring at a fun-filled food and music event at the Mill Casino. Come to the 2nd annual "Blues and Brews" event on Friday, May 24 (4 to 7:30), Saturday, May 25 (12 to 8 pm), and Sunday, May 26 (11 am to 5 pm). Each session will feature a BBQ competition, other food venders, live musical entertainment, and a wide selection of craft beers in the beer garden. The CCHS will be sharing in the profits of this event so you can support the Historical Society while listening to great music and enjoying a variety of foods and beverages!
... ... ... ... ... ... ... ... ...
Join Us For the Monster Disco Ball
Next October 25, 2013
On Friday, October 26, 2012, the CCHS held a very successful costume dance: The Monster Disco Ball at the Mill Casino. Music with St. John Entertainment was provided. There were a number of raffle prizes for our guests thanks to the generosity of these local businesses: Jennie's Shoe Store; Farr's True Value Hardware; City Subs; Bennetti's Italian Restaurant; Kum Yon's; Chuck's Seafood; Katrina Kathleens; Cedar Electric; Oregon Connection; Portland Bagel; Yellow Cab; Abby's Pizza; Ciccarelli's; Safeway in North Bend; The Mill Casino; Cougar Eye Care. A big thanks to our new major sponsor Big Lots! in North Bend. Make plans to join us in 2013!