SCHOOL PROGRAMS
Students and classes from pre-school through community college are especially welcome visitors. We encourage them to view history not as a catalog of facts to be memorized, but as an intriguing puzzle and possible guide to our future. We currently provide structured, multi-part programs for 4th and 5th graders.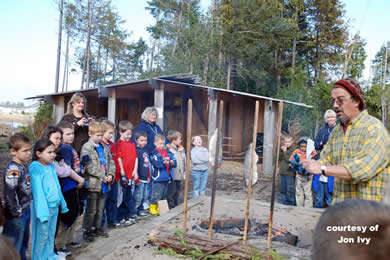 Class visits from other grades are welcome by arrangement; we are happy to help teachers who would like to develop grade-appropriate lessons using our resources. Structured programs for other grades will be phased in following our move to a new larger facility.
Our school programs create opportunities for students to reinforce classroom learning with external resources.  We combine elements from our exhibits, images, and archives, and visitors to local historical and cultural sites to help students to discover the issues and relevance of local history. Our programs are geared to state content standards.

Our 4th grade program focuses on the history and continuing traditions of the local tribes: The Coquille Indian Tribe and The Confederated Tribes of Coos, Lower Umpqua, and Siuslaw. The program, developed and delivered in partnership with the tribes, was honored with a "Heritage Excellence" award from the Oregon Heritage Commission in 2008.

Our 5th grade program highlights the interaction between culture and landscape by exploring economic and transportation issues in the context of the history of the local coal and timber industries. This program was developed with the assistance of our Education Committee, which includes current teachers, retired teachers, and staff.
PARTNERSHIPS 
Development, planning and delivery of each school program is achieved through hours of work by community partners and volunteers including: The Coquille Indian Tribe, The Confederated Tribes of Coos, Lower Umpqua and Siuslaw, Rick Morrison, The Sun Marshfield Printing Museum, educators throughout Coos County, and our Education Committee and volunteers.